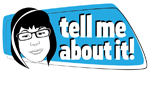 Francine Raften has been at the forefront of television, radio and stand-up comedy for more than three decades in the Pacific Northwest. Her first radio show, at age 12, was "What's Happening in 4-H". It wasn't long before Francine and her recognizable voice was a fixture on Portland drive-time morning and afternoon radio. She has interviewed hundreds of celebs and dignitaries including then Governor and future President Bill Clinton, teaching him on air how to pronounce Oregon.
After many years at the top of ratings behind the microphone Francine moved in front of the camera, as co-host of Portland's first locally produced television comedy show– "Snax: Comedy Tidbits". The show made Portland a hotbed of local comedic talent. She went on to host Crosstalk, a public affairs show on The WB, followed by a stint as Producer of "Fox News Extra". And she has lent her on-camera fundraising talents to Oregon Public Broadcasting for more than 20 years.
She was harangued to try stand-up. All it took was one open mic and the die was cast. Francine performed up and down the west coast for several years, recently co-starring with the legendary Wendy Westerwelle ("Angry Housewives" "Sophie Tucker") in the West Coast premiere of Triangle Theater's "The Jewish American Princesses of Comedy (The JAP Show)". Francine is thrilled to be part of the Earth2World Broadcast Television Network!