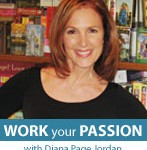 Join Diana Page Jordan on Conquer the Odds. Diana talks with guests and authors who have broken through challenges, pursued their passions, and are living the lives of their dreams. The show was inspired by Diana's own life of childhood trauma, which she transcended through her passion for interviewing. She has a talent for evoking the heartfelt stories, and a reputation for kindly, intuitively, asking the profound question no one else has considered.
Diana is a journalist drawn to that industry to be as close to the truth as possible. Her mission is to inspire, entertain, educate, and enlighten across the media spectrum- web, radio, TV, video, print, books, and stage.
She is an award-winning news anchor, reporter, and talk show host. Diana has interviewed hundreds of best-selling authors of all genre for AP Radio, Barnes and Noble dot com, XM Satellite, Westwood One, TV and radio in Portland. Nearly a dozen of her author interviews have appeared in The Costco Connection, and she has penned three cover stories for The Writer's Digest. Her non-fiction is published in five anthologies as well: a written a memoir, a screenplay, and a novel in works.
Her BookBlog and weekly show called Open Book can be found at DianaPageJordan.com. Diana loves to infuse her energetic spirit in voiceovers, media coaching, hosting/producing podcasts, appearing on-camera, and writing for clients.
Originally from New York City, she's a graduate of The University of Florida with a BS with High Honors in Journalism and Communications. She loves to dance, to write, and to connect at that deep, lovely level.