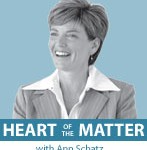 Ann is widely known and regarded as an accomplished sports broadcaster, speaker and entrepreneur. With a sports broadcasting career spanning over two decades, Ann's imprint on national and international broadcasting is impressive. Ann has provided live coverage for top competitions and venues across the globe including the NBA Championships, the Summer and Winter Olympic Games, the Boston Marathon, NCAA Men's and Women's Basketball Tournaments and the US Women's Open Golf Championship.
Throughout her broadcasting career Ann has had access to the world's top athletes, coaches and sport companies; including Lance Armstrong, Tiger Woods, Michael Jordan, Mia Hamm, Nike and Adidas. Weaving her personal experiences with this elite group of individuals along with real life techniques and tools, Ann inspires her audiences to challenge the status quo and develop a plan to achieve breakthrough personal and professional results.
Ann attended Creighton University where she received her B.A. in Journalism/Mass Communications. She graduated cum laude in 1979.